Are you looking for a way to spice up your wardrobe without spending a fortune? Steps on the Side Slit Make an Easy Way do just that! Easy to make, inexpensive, and stylish – what more could you ask for in a clothing item? In this blog post, we'll show you how easy it is to make side slits so that you can add some pizzazz to your wardrobe.
Understanding Side Slit
Slits have become a popular trend in fashion, with front-slit Kurtis and harem pants with slits on the side becoming staples in many wardrobes. Last week we made DIY harem pants using the whole width of fabric, which resulted in wide slits down the sides. Slits are a great way to add an extra stylish element to your outfit and make a statement.
What You Need for Making a Side Slit
Want to make a statement with a side slit? This simple alteration adds a touch of sexiness to any outfit and is the perfect way to show off some leg. Here, we'll show you how to make stylish slits in t-shirts, jackets, gowns, and more.
Start by folding the fabric over and sewing the side seam 15 inches from the top down. You can make the slit lower or higher by changing this measurement. To create an easy flap on a t-shirt or sweatshirt, simply slice a six-inch slit straight up the side seam. For jackets, position slits not in the side seams but in the back piece instead.
To add arm openings to capes or sundresses, make two cuts forming an X on the rounded side of the chestnut. Be sure to cut all the way through for the best results. With this easy guide, you'll be able to create stylish slits that are perfect for any occasion.
Steps to Make the Perfect Cut
Making the perfect cut is easier than you think! Whether you're making a side, back, or center-seam slit, it can be done with a few simple steps. First, finish the seam where you want the slit to be. Then measure and mark the top of the slit, sew the seam to the mark and press the seam allowance open to hem. Mark the top edge and pin the seam allowance before sewing the first side of the slit. With these steps in mind, you'll be able to make perfect cuts quickly and easily!
Steps on the side slit make an easy way
This short, straightforward tutorial will show you how to slit making an easy way. Proceed in the following manner:
Position the overlocked materials so that they are stacked on top of one another, as indicated in the image.
Beginning at one end of the fabric, begin stitching the side slit closed and stop approximately 6cm from the end as shown in the image.
Stitch the end of the fabric as depicted in the photo.
The opening of the side slit should be similer to the picture.
Stitching should be done after the opening has been folded over as illustrated in the image.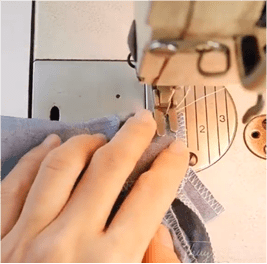 Finish off the opening by stitching the opposite end closed.
Turn the other way around to complete the slit.
To complete the side slit, continue stitching all the way from the top down to the bottom.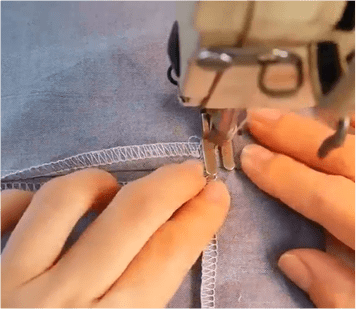 You successfully made a side slit by following the instructions in this guide.
We are happy to congratulate you on your success.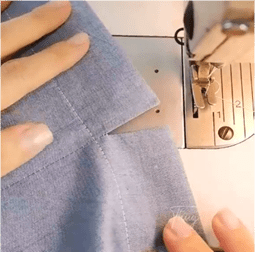 We sincerely hope that you found this training enjoyable and helpful. Why not make a side slit now that you know how to do it quickly? In the event that you have any queries or remarks, please do not be reluctant to leave them in the comment section that can be found below.
Thank you very much for reading!
Frequently Asked Questions
How to Style a Side Slit Dress?
When it comes to choosing the right dress, there are a few things to consider. The first is the type of slit – a side slit or a thigh slit. Side slits tend to be more appropriate for evening wear, while moderate slits can work for daytime attire. For an even more conservative look, opt for a dress with a modest slit on either side or back. On the other hand, leave the thigh-high slits to the celebrities and only pull off those high slits if you feel comfortable doing so.
It's also important to make sure your dress fits you perfectly – regardless of whether it has a high or low slit. To enhance the look further, pair your high-slit outfit with heels and accessorize accordingly. Plus-size women can also find great options when it comes to wearing side-slit dresses – there are plenty of plus-size options available that allow them to wear something similar to their size 6 friend! From left-side slit dresses and 90s styles, there is something for everyone in this category. So explore the full range and find side-slit dresses that will fit you perfectly and make you look stunning!
Types of Side Slit Dresses
Women looking for a stylish and sophisticated dress should consider the Women's Designer Crepe One-Shoulder Sleeveless Solid Side Slit Maxi Dress. This dress features a side mini slit, giving it a short, flirty look perfect for any occasion. The straight slit cut across the center of the dress is subtle, yet adds a hint of flair to the overall design. For evening events or special occasions, high-slit dresses are perfect for making an entrance that is both fashionable and elegant. For day outings and other casual events, moderate slits on the side or back are sure to be a hit. No matter what your style is, you can find the perfect dress with a side slit to fit your needs.
Benefits of Wearing a Side Slit Dress
Slit dresses are no longer reserved for red-carpet events. They can be worn during the day, to work, and even on special occasions. The trick is to make sure you choose a dress with a modest side or back slit. This will ensure you look stylish and appropriate for any occasion. When paired with the right accessories, a high-slit dress can be surprisingly chic. For daytime wear, keep it subtle and opt for a moderate slit on either the sides or back of your dress. For evening events, go bolder with a longer and higher split. Make sure to wear shapewear underneath your dress to avoid any wardrobe malfunctions! Frocks with front or side splits are incredibly fashionable and flattering – perfect for making an entrance!
Tips for Choosing the Right Size and Fit
If you are looking to upgrade your wardrobe with a trendy side or front slit dress, there are some tips to consider that will help you make a perfect choice. Firstly, take into account your height when selecting the length of the dress. For shorter women, it is best to opt for a dress that is slightly above or below mid-calf as this creates an illusion of a longer silhouette. Additionally, pick high slits that are comfortable and flattering on your body shape. To complete the look, wear heels with high-slit outfits as this enhances the overall look even further.
For petite mothers, accentuate your waist with skirts and dresses in A-line or empire cut. Color blocking is also great for evening dresses, especially in dark colors. To add an extra touch of elegance, go for deep V-necks and side and center slits which can create a sleek yet stylish look. Lastly, always ensure to take custom size measurements to get a perfect fit for yourself or your mother. With these tips in mind, you can easily carry off this hot trend with style! 
Dos and Don'ts when Wearing a Side Slit Dress
Slits are a great way to add a bit of flair and style to any outfit. But there are some dos and don'ts for wearing slits that you should keep in mind. For daytime wear, modest slits at the side or back of the dress are best. When it comes to evening wear, high slits can be a more daring look. It's also important to ensure that whatever outfit you choose fits properly.
When choosing an outfit with a slit, it's best to opt for something comfortable and easy to wear. Dresses, two-piece outfits, or elegant trousers are all acceptable choices. Avoid difficult-to-wear shoes and false eyelashes as these can be uncomfortable and distracting. A classic formal look is often achieved with dresses or skirts with slits – try an empire waist with an A-line skirt and side slit for a breathtaking effect!
For weddings, err on the side of modesty when it comes to choosing an outfit with a slit – something like our Satin Tie Side High Split Mini Skirt could work perfectly! If you're worried about hiding problem areas such as your tummy or hips, look out for dresses that have floaty materials or higher necklines which will help draw attention away from this area.